Hand and Body Lotion with Shea Butter and Jojoba Oil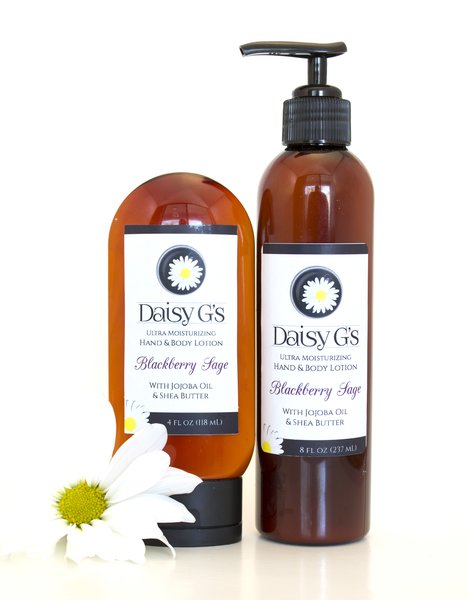 Daisy G's Hand and Body Lotion is a long lasting moisturizer, well suited for everyday use and for all skin types. Jojoba (pronounced ho-ho-buh) oil penetrates the surface of the skin to moisturize the lower layers of the skin, providing long lasting softness without a hint of stickiness. Our organic jojoba oil is extracted from jojoba seeds grown locally in Arizona. To complement the jojoba oil and add to the moisturizing qualities of our lotion we include a generous portion of organic shea butter, vitamin E and skin soothing allantoin. Our lotions are made without petroleum, animal products, artificial colorants or GMOs.

We recommend an all over application of our jojoba lotion after showering with Daisy G soaps for all day silky skin without needing to reapply. Available in twelve fragrances including blackberry sage, lavender, lemongrass and unscented.
Our lotions are available in two sizes, the 4 oz size includes an easy to use squeezable bottle, and the 8 oz size includes a convenient pump top.