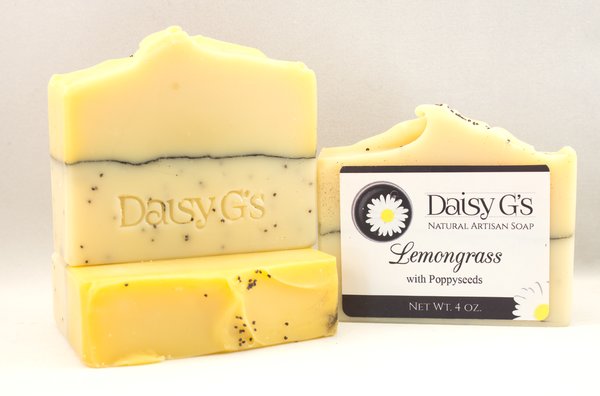 Our lemongrass soap has something to please everyone, one half is exfoliating, one half silky smooth, and altogether uplifting and refreshing! Poppyseeds provide natural, gentle exfoliation on one half of each bar, the other half contains no exfoliants, while both halves leave the skin feeling soft and clean. Scented with pure lemongrass essential oil for a fresh, clean treat for the skin and senses with every use. Made with our Daisy G special blend of olive, coconut, avocado and castor oils with shea and cocoa butters for added moisture.
Pair with a matching sugar scrub or lotion for exfoliation and all day moisturizing.
Each bar weighs a minimum of 4 ounces.

Vegan, palm free, phthalate free, paraben free.
Ingredients: Olive oil, coconut oil, water, sodium hydroxide, avocado oil, shea butter, castor oil, cocoa butter, lemongrass oil, poppyseeds, activated charcoal, annatto.