Laundry Soap | All Natural | 64 Load Jar | Assorted Fragrances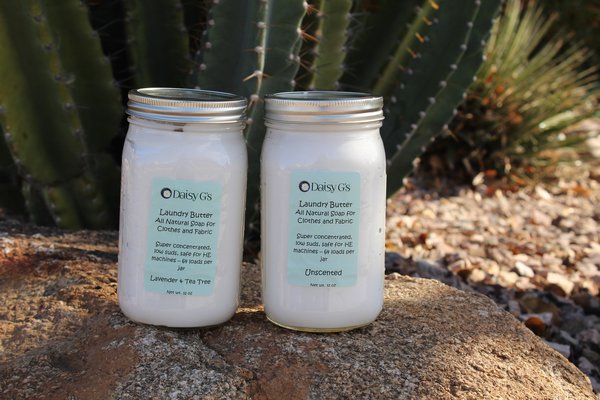 Our laundry soap is a highly concentrated cleaner for use in all machines, including HE washers. Our soap has a consistency similar to mayonnaise, dissolves easily in water and will not leave a powdery residue on clothing. Made with Daisy G's pure coconut soap, the most highly cleansing soap that we make. Available in fragrance free or lightly scented with an assortment of essential oil fragrances. Perfect as a stand alone addition to your laundry routine, or add a stain stick and wool dryer balls for a complete natural laundry system.
One quart (32 oz) washes 64 loads. Use one tablespoon of laundry soap per load.
Our unscented laundry soap is safe for cloth diapers. We do not recommend our scented products for use on cloth diapers. For best results we recommend that you follow all manufacturer instructions regarding washability and treatment of fabrics.
Vegan, palm free.
Ingredients: Water, sodium carbonate, borax, coconut oil, sodium hydroxide. Optional: essential oils.