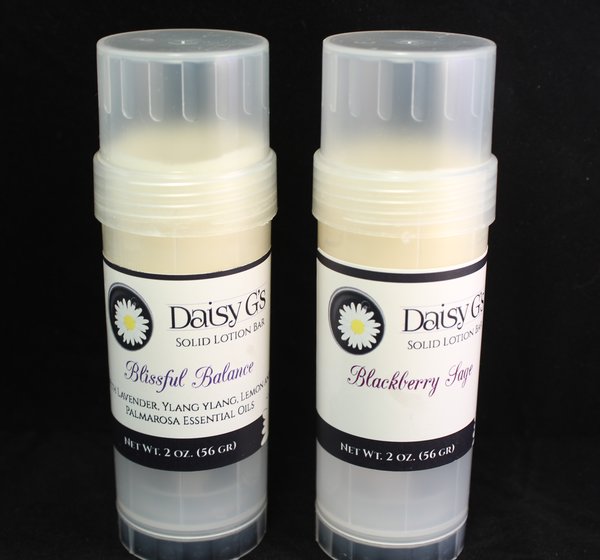 Solid lotion bars offer a natural and convenient alternative to liquid lotions. Rich butters and oils quickly relieve dry, flaky skin while offering long lasting protection against further moisture loss. All of our lotion bars contain organic jojoba oil made from jojoba grown in Arizona, a natural wax that is close in composition to the natural sebum that protects our skin. Coconut oil quickly melts into the skin, and beeswax conditions the skin while solidifying the oils and butters for convenience. Shea butter is well known for the ability to soothe and protect skin from dryness and flakiness. For a shea butter free alternative we offer a version of our lotion bars made with mango butter for those that cannot use shea, or desire a slightly drier lotion.

Our solid lotions are conveniently packaged in twist up tubes that are easy to carry in bags, purses or carry-ons. Keep one at your workstation, on your desk or in your studio for quick application as needed.

Ingredients: Coconut oil, beeswax, cocoa butter, shea butter, organic jojoba oil, Vitamin E, essential oil/fragrance*.
An asterisk (*) indicates a phthalate and paraben free fragrance. All other scent options are essential oils only.
Bergamot
Blackberry Sage *
Blissful Balance (Ylang ylang, lavender and palmarosa)
Coconut Lime Verbena *
Lavender
Lavender and Lemongrass
Rose Geranium
Eucalyptus and Tea Tree
Unscented
Vanilla, Black Cherry and Sandalwood *