Travel Kit - Guest Amenities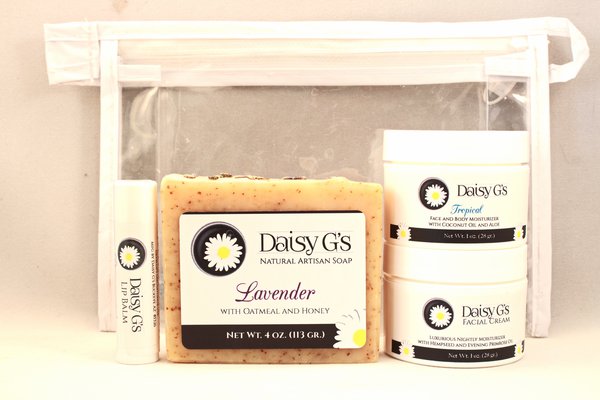 Our handy dandy travel kits include all of the travel necessities to maintain soft and moisturized skin while away from home. Conveniently packaged in a clear pouch with airplane friendly sized creams to minimize your security wait time and maximize your luggage space.
Contains:
1 full size bar soap (choice of Lavender, Lemongrass, Eucalyptus and Tea Tree)
1 1.25 oz jar Coconut Aloe Cream (full body moisturizer)
1 1.25 oz jar Nighttime Face Cream
1 lip balm
Our travel kits make the perfect welcome gift for your out of town guests, wedding guests, business associates or corporate clients. We offer a discounted price on orders of 10 or more kits with our choice of a favorite Daisy G soap. Contact us for details.