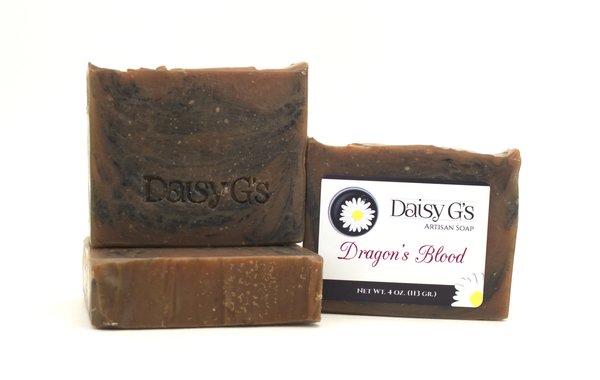 Dragon's Blood Soap is one of our most fragrant soaps, with a scent that lingers in the shower and on the skin. Spicy amber, wood, incense and patchouli with floral notes of jasmine, rose and vanilla combine for an exotic scent that is loved by men and women of all ages. Colored with natural vanilla, activated charcoal and red clay for a uniquely beautiful soap. Made with our custom blend of oils and butters to gently clean your skin without dryness. No dragons were harmed in the making of this product.
Pairs nicely with our Dragon's Blood Hand and Body Lotion for fragrance layering.
Vegan, palm free, phthalate free. Minimum 4 oz.
Ingredients: Olive oil, coconut oil, water, sodium hydroxide, avocado oil, shea butter, castor oil, cocoa butter, fragrance, red clay, activated charcoal.